The Art & Design of
Michael Foster
art direction, writing, graphic design, digital illustration & more
Like a ghost playing the saxophone, this is where imagination comes to play. Ready for an adventure in art & design? Let's go!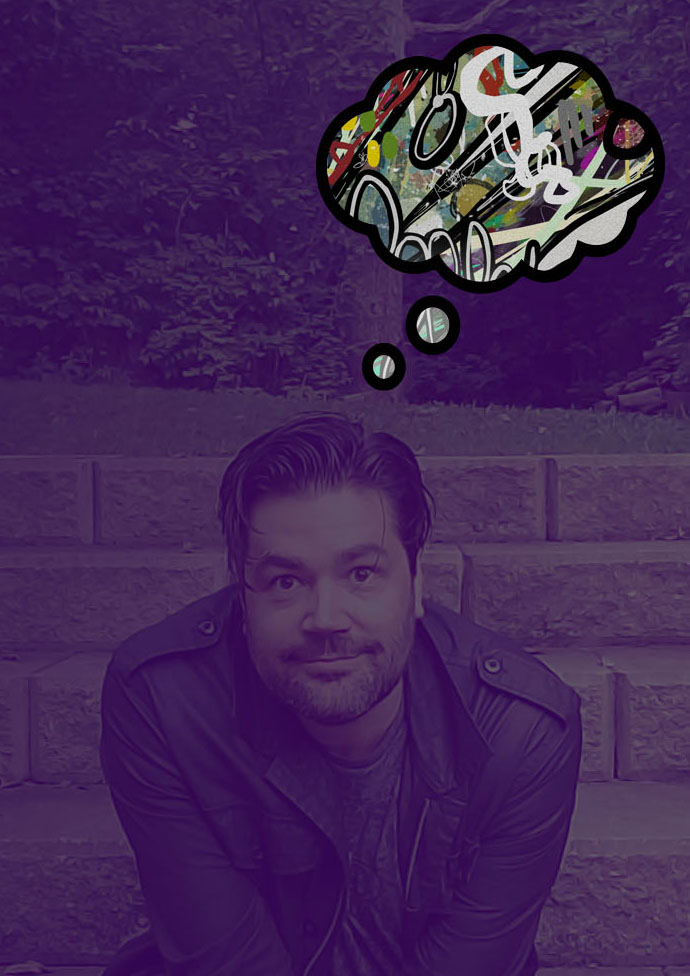 The Art & Design of
Michael Foster
art direction, writing, graphic design, digital illustration & more
Like a ghost playing the saxophone, this is where imagination comes to play. Ready for an adventure in art & design? Let's go!
A New Series of Paintings
On Friday, March 8th, 2024, an entirely new series of paintings by both Jaime & Michael Foster will debut at Water Street Studios in Batavia.
As the days grow darker and history has come roaring back with a vengeance, we ask ourselves… can we stay positive against overwhelming odds? How can we still have hope when it seems all hope is lost? Art galleries have always been a safe space that can stimulate the mind, stir the imagination, and make the heart soar. This show aims to do just that.
The New Film
In the spirit of award-winning indie romantic comedy/dramas from the early 2000's, From Chicago to Osaka is a screenplay written for the modern era. With fast-paced ping pong comedic dialogue in both English and Japanese, From Chicago to Osaka is the quintessential date movie for adults looking for something smart, sophisticated, and highly entertaining.
What's it about?
Dylan Davis, an artist with PTSD from a recent trauma, heads to Osaka for an upcoming art show where he falls in love with a spirited Japanese woman with an unfaithful fiancé.
The Book
I feel like this book belongs alongside Timothy Snyder's "20 Lessons On Tyranny" as required reading for the 21st Century.
– Alisa Kennedy Jones, author of Gotham Girl Interrupted: My Misadventures in Motherhood, Love, and Epilepsy.
The New Now has arrived. We are the people we've been waiting for.
The New Now / Manifestos, Reinventions & Declarations / Updated & Expanded is an insightful, free-thinking, Neo-Beatnik uplifting collection of manifestos and essays about the New Now we're living through. After a global pandemic rolled across and ravaged our land, we can more easily understand how historic and prehistoric events happened. Deeply embedded, wrongheaded, calcified cultural norms are being pushed against as never before, and we can understand how societal shifts happened in past centuries – within months, days, or hours, and when a tipping point was finally reached.
The Art Portfolio
Michael's work continues the visual analogy of civilization coping with Moore's Law through the lens of the subconscious. Distorted handwritten notes and encrypted keyword ciphers are interwoven throughout mysterious structures and various abstractions, including comic illustrations and other non-specific futuristic forms.
The result is a data landscape of today's anxious subconscious mind, presenting how we remember life events and interpret the kinetic surfaces and essences of the environment and emotions that we are sometimes reluctantly embedded within. And they look great on your wall.
You'll Like Mike
Michael is an artist, designer, writer, and communications expert. Most of the stuff you'll find on this site belongs to him.
Michael works with clients around the globe on a wide variety of creative projects. He is also an accomplished painter, photographer, and videographer with over two decades of experience. He turns your vivid imagination into reality, simple as that.
Michael is also a professional writer and journalist. In the past, he has blogged for the Huffington Post, Éclat International, and Psychology Today.
The Design Portfolio
Michael's experience in graphics, marketing, illustration, and video production fills an essential need in advertising agencies, printing companies, and design firms.
Some of the clients Michael has worked with include: Microsoft, US-Japan Business Council, JW Merc, Reliance Accounting, PepsiCo, RAINN (co-founded by Tori Amos & Sarah McLaughlin), Chicagoland Speedway, Richard Shay Photography, The British Embassy in the United States, Ben Hollis Worldwide, and Aphex. In addition, his previous television work has gained the interest of major studios such as Dreamworks SKG.
looking for Jaime?
Jaime Foster is an interdisciplinary artist, living in the Chicagoland area. She is interested in the relationship we have with nature and our environment, both positively, negatively and how this affects us on an emotional level. Her paintings feed off the fascination she has with Ecopsychology, Conservation and Biodiversity. Her work has been shown in galleries throughout the US and internationally. Her photographs and paintings are displayed in private collections, as well as public.
"There is something endlessly fascinating about the work we do. It involves so many various mediums, from graphic design to video production. You have to know what you're doing, and that takes years. This will be my third decade in the arts. It's wonderful to readily know what works and doesn't work in a countless number of situations. And now we have the data to back up those instincts if we can accurately read what the data tells us."
people and places Michael's worked with…