Contemporary artist, John Andro Avendańo is continually working on making art, and showing his work in art festivals and galleries in Miami, Los Angeles, Paris, Seattle, New York City, and selling to collectors around the world who have connected with his unique vision. He constantly challenges himself, and strives to create artwork that will awaken memories or unconscious emotions within the viewer.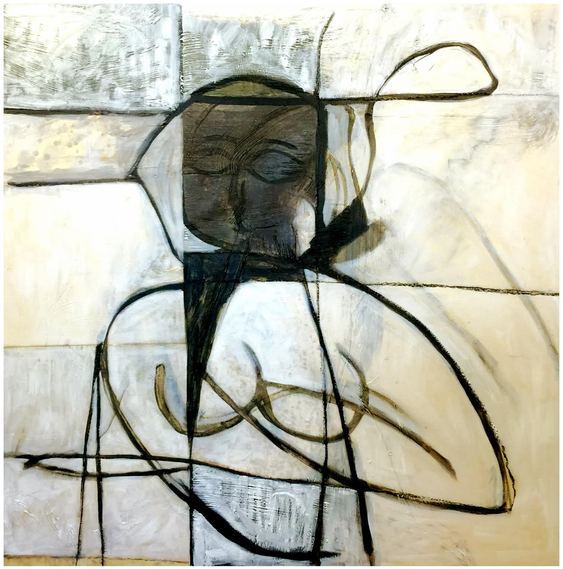 Q: You had a fantastic sales record at your first year at Miami Basel last year? How did that happen?
John: Art collectors want to be engaged. I put out a bottle of wine, asked them about themselves. I let people know they don't have to buy anything, and in fact, if they were looking for a particular type of work, I could guide them toward it. But of course, if they wanted to buy from me, great. I was the first one there and the last to leave. I took people out to dinner, and got to know them better. I was making between 10 and 19 new drawings a day. People would come up and ask if they were for sale, before I was done making one. "How Much is it?" I'd give them a price and they would buy it on the spot. I was eventually selling them at $500.00 each, selling them as fast as I could make them.
Q: Are you returning this year?
John: I received several calls recently from folks inviting me to attend art show events during Miami Basel. These calls came from individuals who put on the event and they asked me back. I asked for some key things since I'd done so well in my first year, and they agreed to what I asked. Even though it's taken a long time to get to this point, I tell people, it's never too late. Start where you are. It's the striving and learning and making new types of work that makes it so sweet when you do get there. Not that there's a "there" you arrive at, since there's always a new piece to work on.
Q: How does an artist make the art only they can make?
John: The idea is to create something that is real and true. And the only way to do that is to know "yourself," and knowing yourself is really the hardest part. It's that razor's edge, and walking it without gimmicks or tricks to fall back on. Leaving a completed work is making a statement, once you've created it. That's where courage comes in. Once you leave it and move on, that becomes faith in your own work, the faith your work will transcend beyond itself and resonate.
Q: There's a great Picasso quote, "I begin with an idea and it becomes something else." One of the simplest explanations anyone's ever said about making art.
John: Absolutely. Like I tell artists I meet. "Just show your work, and let other people decide on its merits. Create and then show it. Don't create and leave it in your room." The real part of the process is getting it out there in the world. Whether I get a positive or negative reaction from artwork I post online, it still means people are engaging in the process.
I know a writer that's been writing for 40 years, and has published one book. But he refuses to read other writers. He wants to be totally original, but it's crazy impossible not to be influenced if you're a painter or a writer. The only art I'm interested in is art I can steal ideas from. From Rembrandt to Picasso, every artist takes from the present and the past, and if they're great they make it their own.
As a teenager, all my friends were doing what teenage males did: pursue cars, clothing, and girls. When I tried to do that and move away from my art, I felt like brown shoes at a tuxedo event. That phase went on until I was 19, 20, when I decided to become a fulltime painter, sometime in the late 1970s. At night, I read about the lives of writers and artists to see at what point in their lives they moved from ordinary to creative excellence. In all the cases, the genius thing they did was not quit. Despite the hardships they went through, and having people tell them they couldn't paint, couldn't write, they persisted. What I've found is that art has to come from the pure place, the place beyond thinking of money. Money will come, if you're good and you persist. Whether it takes 20 or 30 years, if you stick with it, your work improves and you see the change in it.

Q: You're committed to helping younger artists. Tell me about that.
John: I love helping younger artists, because it is exactly what helped me get where I am, and I believe in paying back. They'll come to my studio and spill everything out, about how their parents think they are losers by following a dream of being an artist. I never tell them what to do. I just tell them my story. If any piece of that can help them along, it's theirs. I see it as my duty. All the people who helped me are right behind me, helping more people. The best is when someone says, "This guy turned my life around" and you know it's true.
In the beginning, artist's works all look alike. As the years go by, while you're working something comes out. You get to the "wow" where did that come from moment? Who did that? What cosmic thing is coming in here? That's what you're trying to get to. A large majority of people give up before that happens. And that's the shame. If they could just go a little bit further along the path…"
Q: How do you view being an artist in Seattle and the Northwest?
John: At first I was finding Seattle very closed off, as opposed to New York and Los Angeles. Artists would say when there was a group show going on, and they'd get the word out and invite their friends. In Seattle, there can be two artists living next to each other and they might never have met. But when I rented the space in Edd Cox's old gallery, tons of people dropped by asking about Edd. So I met Edd Cox and had a show over at the OK Gallery, and things got rolling. And if you meet Edd, you meet a whole circle of other artists in town.
You have been working a long time, and now you've had much more success. Have things changed steadily, and have people been collecting your work?
I've had collectors for 35 years. Everywhere I go, I get collectors and many of them have become lifelong friends. What used to happen in Los Angeles is that I would host a dinner for people who had bought my work from previous shows. I'd take them out to excellent restaurants. By the time I left the city, I'd have 50-60 people coming to these dinners.
Now I go to France every year, for two or three months. People have to be reminded of who you are as an artist. They may forget your name or your face, but once they see you again, they will remember how you and your work make them feel. That makes a huge difference.

Sounds smart. Let's go into something you've hit upon several times, which is the link between making art and good communication.

When you can apply the right words to your art, telling a story behind a piece, it makes it accessible to a wider audience. Once you do that, their comfort zone expands. The process of making and selling art is based on natural laws that can't go wrong. Natural laws apply to everything. The same philosophy I'm using to make and sell are would apply to a CEO at Microsoft. People who buy art are people, who become customers, like in any business. I tell people, if they buy a piece, I'll go to their house, set up the lighting, tell them where it should be hung in the room, everything. Which is customer care, customer service. This makes all the difference in the world.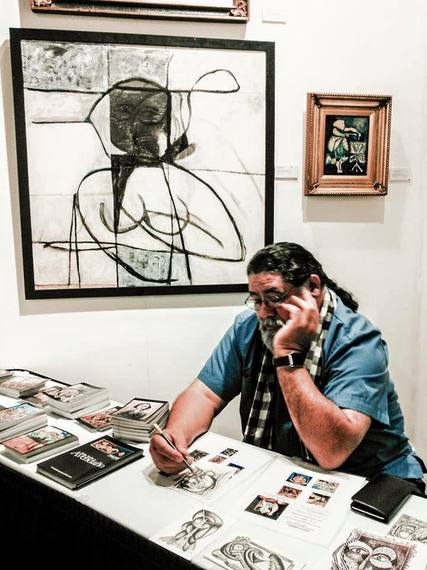 Q: Do you consider yourself a visionary artist?
John: To me, it's automatism. I like the discovery and the interconnection of materials. There's no ego, it's about being in the flow, finding a daily rhythm. I prefer making pieces in the spirit of spontaneity. It's an ongoing process. If someone comes into the studio and interrupts the working rhythm, I may not go back to that piece until a week later or ten years later. As for my process, it's still daily observation, and putting the vision down while knowing that the idea changes once you start. You have to be open to those changes.