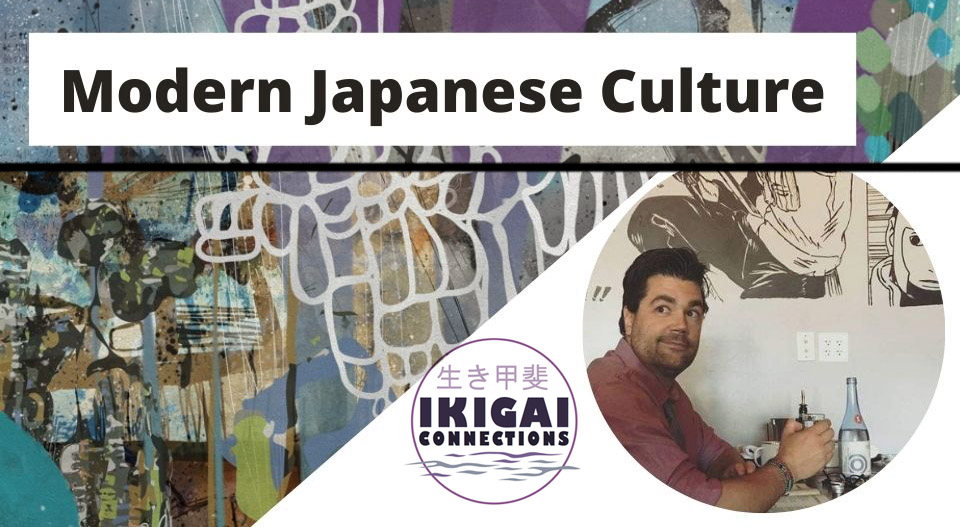 You can read the original article here on the Ikigai Connections website…
When Kasia asked me to write for Ikigai Connections, specifically for the Senpai Success Stories, I felt humbled and honored by the request. I can't help but feel that my story doesn't technically qualify as a true success story, as of yet. The truth is, I simply love Japanese culture and have spent the last few years rigorously studying as much as I can. From the art of Hiroshige to the musical genius of Wednesday Campanella, there is so much content and material to enjoy, it can become overwhelming, especially if you don't know where to begin. Hence, rather than a typical success story, I want to chat about my own journey exploring Japanese culture. During stressful times, a chance to deep dive into another society along with its history and sensibilities can be a great source of joy. Besides, if you're on the Ikigai Connections website, my guess is, you're already interested in Japan…
I am very well aware the following is just the tip of the tip of the tip of the iceberg. It would be nearly impossible to list all of the Japanese music, art, games and movies I have enjoyed over the last few years, much less provide a complete detailed overview of every aspect of post-WWII Japanese culture in a few short paragraphs. This is why I am not just listing the best of the best, I'm also providing some information on the places you can find even more of the good stuff.
FILM
Film is the easiest and quickest place to start immersion into a new culture. Film critic Roger Ebert once said that films are empathy machines. They can provide access to thoughts, feelings and emotions that were once inaccessible. Within a couple of hours, you can watch a critically acclaimed art form that is a true reflection of a society and the sensibilities that come with it.
Seven Samurai (1954) is the obvious choice for beginners. Arika Kurosawa's groundbreaking epic helped thrust Japan back into the world stage after World War II. The film invented the "assemble the team" genre and set the stage for the third act battle sequence resolution, which every Marvel movie has utilized to the point of tedium. The mistake is to just watch this one Kurosawa film. Rashomon (1950) is just as groundbreaking in its choice of narrative, in which a horrific crime is investigated in backstory from different inconsistent perspectives. Yojmbo (1961) and Sanjuro (1962) are wonderfully entertaining while effortlessly demonstrating that Toshiro Mifune was one of Japan's best performers. The Hidden Fortress (1958) gets a lot of attention for being the source of Star Wars (1977), but I prefer his lesser known works. Ikiru (1952) is haunting in its execution of facing mortality, while Drunken Angel (1948) is a gritty unflinching look at Tokyo in the years immediately following the war, ruined by relentless bombing, yet teeming with seedy lucrative black markets. Both of those films showcase Takashi Shimura, another brilliant Japanese actor of the time. And if you love Toshiro Mifune, there is a wonderful Keanu Reeves narrated documentary simply titled Mifune: The Last Samurai (2015), not to be confused with the Tom Cruise film from 2002.
The next logical step is to visit Yasujiro Ozu's collection. Tokyo Story (1953) is a bittersweet look at family dynamics which seem all too relatable in our modern society. The End of Summer (1961) overflows with charm, and you can tell where film directors like Wes Anderson were heavily inspired by Ozu's pacing and set design. The truth is, if you're watching a Kurosawa or Ozu film, it's going to be worth your time. For another classic outside of these two legendary directors, Kenji Mizoguchi's cautionary tale Ugetsu (1953) is a must see.
Toshiya Fujita's Lady Snowblood (1973), accompanied with a powerhouse performance by lead Meiko Kaji, oozes with as much grimy cool as it does fire engine red blood. While you're visiting Quentin Tarantino's influences, Tokyo Drifter (1966) and Branded to Kill (1967), both films directed by Seijun Suzuki, should be high on your list. If you're still in the mood for dark and gritty, try deeper cuts like the epic rivalry of two brothers in Kô Nakahira's Crazed Fruit (1956) or the 1960s avant garde dread-filled non-linear narrative of Nagisa Oshima's Diary of a Shinjuku Thief (1969). If you want something goofier and a bit of an acid trip, visit Nobuhiko Obayashi's off-the-rails horror comedy House (1977).
Much of Japanese cinema can be for a lack of a better term "extreme," which may be off-putting to some viewers. For a glimpse into this dark and mysterious world, Kinji Fukasaku's Battle Royale (2000) is a groundbreaking stripped-down semi-amoral predecessor of The Hunger Games (2012). Also worth noting is Sion Sono's The Forest of Love (2019) which takes a gruesome and unflinching over-the-top look at the power dynamics of celebrity and abusive relationships. In truth, anything by Sion Sono is going to be interesting from a "I can't believe I'm watching something is insane" perspective. On the much tamer side, I also enjoyed the lo-fi indie sensibilities of Love and Other Cults (2017) directed by Eiji Uchida.
If you're looking for movies with less blood-splatter and a lot more heart, Hirokazu Kore-eda has proven himself to be one of Japan's greatest directors. The Academy nominated Shoplifters (2018) is a touching and sometimes harrowing look at poverty in Tokyo. I'd also recommend his Ozu-influenced family drama Still Walking (2008). Finally, although not Japanese, the late Iranian director Abbas Kiarostami takes an intimate look at the world of Tokyo call girls in the excellent Like Someone in Love (2012) with Battle Royale's cinematographer Katsumi Yanagishima. Just don't let the lack of closure ruin the film for you. (I really can't tell if that qualifies for a spoiler alert.) For films that are simply enjoyable, Adrift in Tokyo (2007) literally offers a walking tour of early 21st century Tokyo wrapped in a bizarre odd couple bromance with the feel of an early Jim Jarmusch film. If you want extreme cinema that's more of a PG-13 popcorn affair, the manga adaptation of Bleach (2018) offers a lot of breezy action-adventure moments and demonstrates the raw potential and perspective that Japanese cinema can bring to the world stage.
If you're ready to make the commitment to Japanese film, you're in luck. Amazon Prime, Hulu and Netflix have been actively adding Japanese movies to their list, especially in terms of anime. However, if you want to have access to the back catalog of classic Japanese cinema, then sign up for the surprisingly affordable monthly investment of a Criterion Channel subscription, which has dozens of films from Japan, as well as many other countries. Just know that the Criterion Channel doesn't stream to game consoles, and it's not as readily available as applications like the big three streaming services. You'll need Chromecast or a similar device to stream Criterion Channel content form your phone to your television.
And there's always the Showa-Era Godzilla movies… which are now a part of the Criterion Collection.
ANIME
The obvious starting point is the work of Studio Ghibli. If you only watch one Ghibli film in your life, make it Spirited Away (2002). Since the internet is overloaded with information on anime and manga, and so much has been written about Ghibli and the genius of Hayao Miyazaki, let's take a brief look at other classics and some lesser known modern masterpieces.
The cyberpunk thriller Arika (1998) is for many of a certain age, where our journey to Japanese culture began. It's hard to explain the impact Akira had at the time. Think of it this way, when Disney completely reinvigorated its animation brand with the likes of family-friendly tentpoles like The Little Mermaid (1989) and Beauty and the Beast (1991), gritty hardcore animated movies like Akira and the emotionally devastating WWII tale Grave of the Fireflies (1988) were arriving on American shores. They seemed like animation drawn from another world, and in some ways, they were.
For sheer crowd-pleasing entertainment, Makoto Shinkai's Your Name (2016) is probably the literal definition of the term, a body-swapping comedy of manners unfolds into a teen version of Eternal Sunshine of the Spotless Mind (2004). I've seen a lot of movies in my time, Your Name kept raising my expectations and blowing right past them. The film plays out like a greatest hits of anime tropes with probably the best and most profoundly anticipated "meet cute" sequence of all time. His 2018 follow up Weathering With You, is also a very good film, it just could never live up to expectations set by his previous movie. No movie could.
Mamoru Hosoda is the other "not-Hayao Miyazaki but pretty damn close" animator from Japan. The Girl Who Leapt Through Time (2006) is a sci-fi time travel romance that starts off as a fun little dramedy that turns tragic and then profound in ways you simply don't expect. His 2018 film Mirai is a beautiful love letter to the concept of family and what it means to be related in a more potent spiritual sense. Summer Wars (2009) is a delightful romp which is part cyberhack thriller, part family drama. The two competing storylines work beautifully well, and the virtual-world stylings of artist Takashi Murakami elevate the material to a new level.
And then there is A Silent Voice (2016), a Japanese animated teen drama from Kyoto Animation, directed by Naoko Yamada and written by Reiko Yoshida. Kyoto Animation was recently in the news for a terrible arson attack that left 36 people dead and dozens more injured. This was a heart-wrenching tragedy in and of itself. The movie, A Silent Voice, is probably the greatest anti-bullying film ever made. A must-watch, just be sure to have a box of Kleenex ready.
In terms of animate series, Neon Genesis Evangelion (1995) is the granddaddy of them all. I only mention this as many have taken issue with the changes Netflix made to some of the translations and ending credits music. It's still worth your time if you haven't seen it, just be sure to look up the story behind the making of Neon Genesis Evangelion, as you'll get a lot more out of it. Besides the usual stack of recent all-time-greats, My Hero Academia (2016), Attack on Titan (2013), Tokyo Ghoul (2014) and the gonzo Assassination Classroom (2014), take a peak at the charmingly adapted anime mini-series Erased (2016). Think of it as Quantum Leap meets Stand by Me. It's very, very good. Just skip the live-action version, which simply cannot live up to the emotional level of the animation.
As previously stated, Amazon Prime, Hulu and Netflix have been aggressively adding Japanese anime movies and television series to their catalog. You can also get a subscription to Funimation and Crunchyroll, which have more anime shows and exclusives than you can ever consume in a lifetime, but the technical streaming issues can be a bit frustrating.
MUSIC
Music is always subject to taste, and everyone has different sensibilities. I really enjoy the diverse female-led empowerment of many current Japanese bands. When you think of raw JROCK girl power, Band-Maid and the outrageous Babymetal are usually on the top of everyone's list. Despite both bands saddled with a heavy dose of kitsch, they overcome a lot of criticism by simply being some of the best musicians in the business. Baid-Maid's Kanami Tōno can shred a guitar riff as good as Tony Iommi in his prime. BiSH, also known as Brand-new idol SH!T, offers a unique take on rebellion rock. Leading the self-proclaimed neo-kawaii movement is the quirky four-piece Devo inspired rock band Chai, which recently signed to Sub Pop Records in Seattle.
Wednesday Campanella is just spectacular. To call her the Japanese version of Bjork is misleading. She garners the comparison from her unique, quirky musical videos which are readily available on YouTube, as well as a stunning 2017 live-performance at the Octagon Space at Nippon Budokan. I'd also keep an eye out for Aya Gloomy, a gothic-inspired pop signer. If psychedelic rock is your jam, try Glim Spanky. Like rap? Try the early 90s New York influenced stylings of Akkogorilla. There's so much to choose from.
As a child of the 1980s. shoegaze hits all of my musical buttons. Sophia Coppola's Lost in Translation (2003) forever entangled my thoughts of Tokyo and the music of My Bloody Valentine forever. Fortunately for all of us, Japan has a lot of great shoegaze bands. If I had to pick a few recent favorites, I like Otom, And Lorelei, Haiku Garden, Yuragi and Browned Butter. For more classic shoegazers try Luminous Orange and Dive (JPN). For a harder edge there's always the album Pink (2005) by Japanese experimental band Boris. And finally, even though they may be a bit more mainstream, For Tracy Hyde continuously puts out excellent work.
For the more sophisticated pop lover, I'd highly recommend Mondo Grosso, Daoko, and Kaho Nakamura. Breezy light bands like DYGL (pronounced Dayglow), Domico, Denims and the jazzy stylings of Tendre make for easy listening in the afternoon. If you want to do a deep introspective listen, try the ambiance recordings of Hiroshi Yoshimura. If you like your pop stars to be animated, there is the culture phenomena of Hatsune Miku, a singing voice synthesizer program executed as an animated character that is featured in thousands of songs released by professionals and amateurs alike. (I'm really not quite sure how copyrights are even handled in something like this.) For the most Japanese concert you'll ever see, watch clips from the 2018 NHK broadcast of the virtual holographic Hatsune Miku performing "live" with Kodō, a world-renowned and very real traditional taiko drumming group. It is literally the past and the future of Japan synergized in one mind-blowing performance, and you can find it on YouTube, for now.
If you're looking for great post-war garage rock, there are two samplers readily available on most music streaming platforms. On Big Lizard Stomp! – Teen Trash From Psychedelic Tokyo '66 – '69 and The Sixties Japanese Garage Psychedelic Sampler feature such classic artists as The Mops, The Spiders and The Jaguars. If you want something more contemporary, Apple Music has several curated playlists of trending Japanese tunes, the most notable being "Wasabi," a rotating collection of musicians from Japan's underground scene. I'm not the biggest fan of Apple Music, but I have to admit, they have the best curated playlists in the business, and several that exclusively feature Japanese bands, from jazz to anime theme classics.
You can also check out the Fuji Rock channel on YouTube, which every year holds a three day music festival featuring loads of local talent as well as music from around the globe. In particular, Fuji Rocks' Rookie a Go-Go section has mostly up-and coming bands striving for potential stardom. For more new music like this, try the SpinCoaster Music Bar YouTube channel with a sizeable selection of Tokyo Sounds. Think of it as NPR's Tiny Desk Concert series set in Tokyo, with a bit more posh.
And there's always Kyu Sakamoto…
BOOKS
Everyone starts with the fantasy realism works of Haruki Murakami. The Wind Up Bird Chronicle (1997) and Kafka on the Shore (2004) are not just great Japanese books, they are some of the best fiction ever written, period. If you want to dive further into his worlds, try the devastating unrequited love story of Norwegian Wood (1987), the missing person mystery of Sputnik Sweetheart (1999), and the wry humor of the soft-boiled detective story A Wild Sheep Chase (1982). Although in recent years, some misogynist tones have come into question, which could be attributed to cultural differences, that shouldn't dissuade one from diving into his superb collection of work.
From the female perspective, Moshi Moshi (2010) by Banana Yoshimoto is a wonderful look at the viewpoint from a modern Japanese woman enduring the tragic loss of her father. I'd also recommend her books Kitchen (1988) and Goodbye Tsugumi (1989) as well. Strange Weather in Tokyo (2001) by Hiromi Kawakami is a fascinating read that goes into the touchy dynamics of the May-December relationship. If extreme Japanese cinema is your sort of thing, try Out (1997) by Natsuo Kirino. You'll have to find a hard copy since as of November 2020, it is not readily available as an ebook.
For more classic literature I'd highly recommend, Snow Country (1948) by Yasunari Kawabata, Kokoro (1914) by Natsume Soseki, along with No Longer Human (1948) and The Setting Sun (1947) by Osamu Dazai. Silence (1966) is Shusaku Endo's masterpiece about seventeenth-century Portuguese priests attempting to bring Christianity to Japan, which was also made into a 2016 film by Martin Scorsese.
Although not literature per se, Pure Invention: How Japan's Pop Culture Conquered the World (2020) by Matt Alt is an outstanding and somewhat comprehensive look at the stories and people of Japan that reinvented themselves after the war and in turn helped turn their country into the powerhouse of culture that it is today. It's easy to forget now, but in the 1980s Japan was considered a threat to the American economic juggernaut. At the time, this took many by surprise considering the country was literally bombed nearly to oblivion just thirty-five years earlier. Over the course of the 1990s, due to the collapse of Japan's economy and a new generation that was not directly effected by the events of World War II, Japan was seen as less of a threat and more of an exciting place of interest in the West. By the mid 2010s, the world was immersed in Japanese culture, playing Pokémon GO on our smartphones. In hindsight, Japan's emergence from the war will probably go down in history as one of civilization's greatest comebacks.
In terms of finding more books to read, it's very easy. Simply do a search for "best Japanese books" and you'll have access to dozens and dozens of must-read material that can be instantly downloaded to your phone or tablet. Believe it or not, it used to be a lot harder to have access to foreign content before the internet.
VIDEO GAMES
This could and should be an article of its own. Besides the glory of the Final Fantasy series and the recent JRPG masterpieces Persona 5 by Atlus and NieR: Automata by Square Enix, there is a treasure trove of video games from Japan that deserve and demand attention. Unlike movies, music and other art forms, video games have a steeper learning curve and more of a niche audience. We'll keep this one short.
Rather than attempt to summarize and condense such a complicated history into a single paragraph, let me introduce you to Archipel, a Parisian television studio in Japan that has created an extensive and impressive series of short documentaries featuring Japanese game designers, artists and musicians. They are currently working on Archipel Caravan, an original series of weekly content themed around Japanese games and game designers. The New Format – Toco Toco series has beautiful cinematography while the Old Format – Toco Toco comes with a heavy doze of DIY indie charm. As there are nearly 100 documentaries to choose from, even thought they are relatively short, start with the extensive "The Resurgence of Japanese Games – Ebb and Flow," then go to illustrator Shigenori Soejima, musician Ei Wada, game creator Yoko Taro, composer Kenji Kawai and accessory designer Naoko Shinpo. There are also two thirty-minute documentaries about the Japanese board game industry that are very enlightening.
ART
Even more than music, art is subject to taste. There's simply too much to cover. Personally, I find the printed landscape illustrations of Hiroshige to be some of the finest work ever produced. To discover more Japanese classical artists like Hokusai, Utamaro and Kunisada, Google's Arts & Culture app does a magnificent job with a nice tablet friendly interface. (It's best to use this application on a table rather than a phone, you'll want the larger screen size.) You can also explore the virtual galleries of several prestigious Japanese art museums such as the Shohaku Art Museum, the Kobe City Museum, the Hiroshima Peace Museum and the Tokyo Fuji Art Museum. You can also find stories about Tawaraya Sotatsu's Waves of Matsushima as well as overviews on the Kumano brush and Kamachi ware.
Of course, there are traditional forms of Japanese art like Kabuki, which NHK, a Japanese public television station, does a wonderful job explaining to causal viewers with their ongoing series Kabuki Kool. In fact, if you're not watching and/or streaming NHK WORLD JAPAN, then you're missing out on a priceless source of information. There are a countless number of shows and language lessons that are invaluable to anyone interested in Japan. Everything from kawaii culture to in-depth looks at the Japanese railroad system can be instantly accessed online. Although you can find some NHK content on YouTube, the NHK website has a lot more, and can be streamed from your phone/device to your television with the proper equipment.
For more modern interests, Yayoi Kusama is one of the most famous contemporary sculpture and installation Japanese artists of all time. Her intriguing story was recently documented in a film called Kusama: Infinity (2018). And then there's the anime inspired surrealism of Takashi Murakami, which you've already probably already seen his work on a number of items including a Kanye West album cover or in Billie Eilish music videos. Yoshitomo Nara is another beloved Japanese caricature artist with global commercial appeal and a huge fan base. For more contemplative works in design and spatial relations, there's designer Kenya Hara. His recent book, Designing Japan: A Future Built on Aesthetics (2018) goes deep into his philosophy and methodology.
In conclusion, there are plenty of places to start your cultural journey into Japan. You'll start with the most well-known, popular and critically acclaimed. Eventually you'll work your way into the more nuanced and progressive expressions of each medium. After a year or so, you'll feel comfortable enough in your knowledge to have decent conversations at the next cocktail party, when we'll all be able to meet in person again.
You can read the original article here on the Ikigai Connections website…